GaylaJ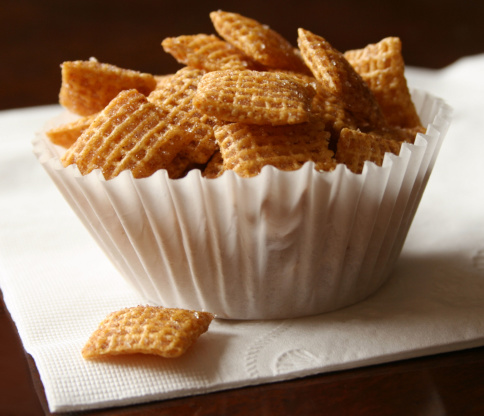 I made this last Christmas and it was a big hit! It is so embarassingly simple.

Top Review by mbfans
I have coworkers that love anything Snickerdoodle like. I just made this and it is really easy and good. I did however make the second batch with 1/4 C. white sugar and 1/4 C brown sugar. I think it made for a nicer coating. Oh and I used Cinnamon Chex. But there certainly isn't anything wrong with this recipe either. Thanks!
1⁄3 cup sugar
1 1⁄4 teaspoons cinnamon

4

cups Corn Chex or 4 cups Rice Chex
Combine sugar and cinnamon; set aside.
Melt butter over low heat.
Add selected Chex cereal.
Heat until all pieces are coated.
Continue for 5 to 6 minutes.
Sprinkle half of mixture (cinnamon and sugar) over Chex cereal evenly.
Continue to sprinkle sugar mixture over Chex until all is covered.
Heat one minute longer.
Spread on paper towel to cool.