Cinnamon and Honey Almonds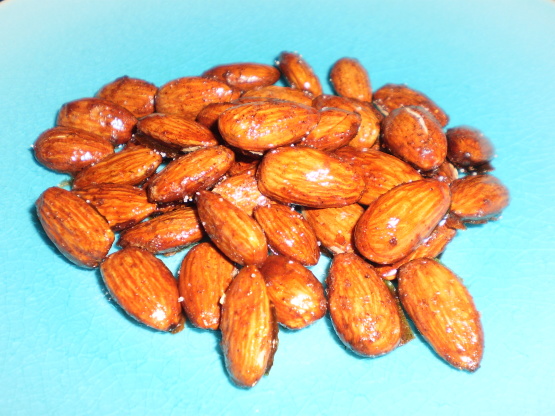 These almonds can be frozen.
I tried this same recipe with just a cup of peanuts and it was amazing! I also dusted the peanuts with a quarter tsp. of ginger powder at the very end and it added a nice spicy kick. I also turned the oven off at 15 min and let them sit inside for another ten.
Directions
In a big microwave bowl, heat honey at low power (10 %) for 1 minute or until melted. Add cinnamon and almonds and mix well to coat them. Spread almonds on a baking sheet with greased parchment paper.
Bake in a preheated oven of 350 F for about 15 minutes or until almonds are golden (shake one time). Put the baking sheet on a grill and shake the almonds. Let cool completely (the mixture will get hard). Broke the almond mixture in pieces and put in a bowl. Add salt and mix.