Ezri_B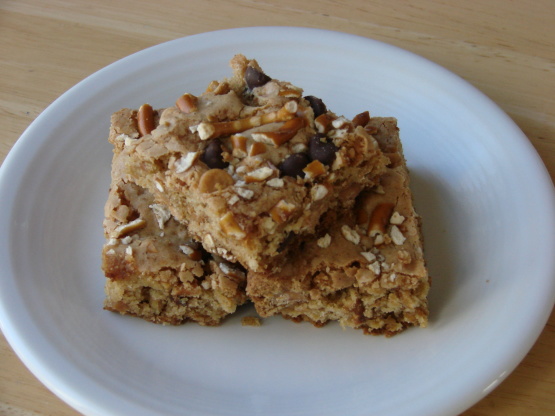 My husband loves Ben & Jerry's Chubby Hubby Ice Cream, this is a bar cookie that has many of the qualities of that ice cream. I adapted some of my favorite cookie recipes into these bars.
These bars are delicious, although I believe an ingredient is missing from the recipe. In the directions, it reads "Stir in the peanut butter chips, chocolate chips, and pretzel pieces." Other than the 1/4 cup of peanut butter chips for the top, there is no other mention of a measurement for additional peanut butter chips. I added a cup of peanut butter chips to the recipe and it was perfect!
Preheat the oven to 350°F Foil line and spray a 9X13" pan with cooking spray.
In a bowl, whisk the flour, baking soda and salt. Using a mixer, beat the butter and both sugars at medium speed until light and fluffy. Beat in the eggs and the vanilla extract. On low speed, beat in the dry ingredients just until incorporated. Stir in the peanut butter chips, chocolate chips and pretzel pieces.
Spread the batter evenly in the pan and press it down evenly with a spatula. Sprinkle extra peanut butter chips and chocolate chips. Sprinkle remaining pretzel bits.
Bake for 30 minutes, until golden brown. Cool Completely
Lift bars out of the pan using foil. Place on a cutting board. Cut even squares.