Chocolate Toffee Graham Treats
Prep 10 mins
Cook 15 mins

These are delicious and easy (only 5 ingredients)! If you like toffee bars like Heath or Skor, then you will enjoy these treats.
Directions
Preheat oven to 350*.
Arrange graham crackers in a single layer in a 15 x 10 baking sheet.
Combine butter and sugar in saucepan and bring to a boil over medium heat, stirring constantly until butter melts; then boil 2 minutes.
Remove from heat and stir in pecans.
Pour mixture evenly over crackers and spread carefully to edge of pan, covering crackers completely.
Bake for 10 minutes.
Remove from oven and sprinkle evenly with chocolate chips; when chips melt, smooth evenly to cover top.
Cool in pan for 5 minutes; carefully separate and transfer squares to a wax paper lined cookie sheet.
Refrigerate until chocolate hardens.
Reviews
Most Helpful
These are very good, as one other had said I would increase the cooking time on the toffee just a bit, because it was still a bit soft and gritty as apposed to brittle like actual toffee, when only boiling for two minutes. I was suspicious when the mixture was still light golden brown instead of darker like peanut butter, but thought that maybe the cooking time in the oven would make up for it. It didn't. I will definitely try these again. *Update: I tried it again and boiled the toffee for 4 minutes and it turned out great!

Super rich treat that is very yummy. It is hard to stop with one. I used aluminum foil under them and it helped tremendously with the clean-up.
Just like I remember making years ago. I had lost the recipe and came on zaar to find it again. Most of the recipes I found use saltines - but I prefer the version with graham crackers. This tastes just like chocolate covered toffee. I forgot to add the nuts in the sugar mixture so I sprinkled the nuts on top of the chocolate. Delicious! Thanks for posting!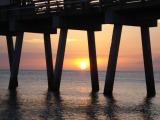 Holiday Central >