Chocolate Striped Dream Cookies
Pamela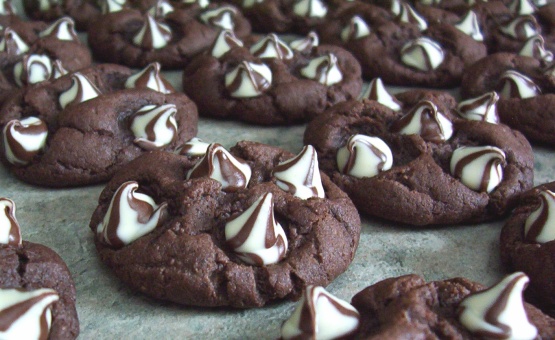 This is a very easy recipe, made with the new nestle swired morsels, if you can find them in your area you will not be sorry you made them. Taste wonderful and look incredible on cookie trays. From the Nestle website

These are really good and kids just love them. They are almost brownie like. Just be careful though. The cookie is very delicate. I placed them into bags after cooling them to transport and when i had arrived a lot of them had broken apart. Still yummy though!
In a small bowl, mix flour, cocoa, baking soda and salt.
With mixer and large bowl, beat butter, sugar, brown sugar and vanilla until creamy.
Add eggs, one at a time, beating well after each addition.
Slowly beat in flour mixture.
Stir in one cup of morsels.
Drop by well rounded teaspoon or cookie scoop onto ungreased cookie sheets.
Top with remaining morsels.
Bake at 325° for 11-13 minutes or until cookies are puffed and centers are set, do not overbake.
Cool on baking sheets for 2 minutes, remove to wire racks to cool completely.