Chocolate Sour Cream Fudge Snack Cake
Redsie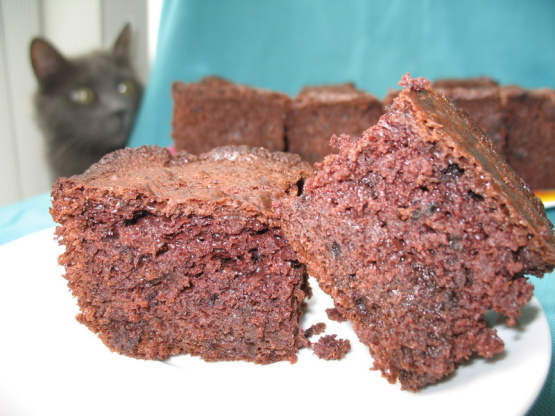 A really moist and fudgy one-bowl cake.

This cake turned our great even though I made some changes to fit the ingredients I had on hand. I used plain yogurt instead of sour cream since I had left over yogurt that I needed to use up. I also used all brown sugar as I had just run out of white sugar. I omitted the coffee, walnuts, and chocolate chips, and served it without frosting. The texture was wonderful! It was very moist, yet somehow still light and spongy. There's also a good flavor without being too sweet. I will definitely be making again!
Set oven to 350 degrees.
Grease an 8 x 8-inch baking pan.
Set oven rack to second-lowest position.
Sift the first 8 ingredients in a large bowl.
In a small bowl, whisk together sour cream, melted butter, egg and vanilla.
Add the sour cream mixture to the dry ingredients, and beat with a wooden spoon or a whisk until just combined.
Add in chocolate chips and walnuts; mix to combine.
Transfer the batter into prepared baking pan.
Bake for about 35-45 minutes, or until cake tests done.