Chocolate Raspberry Torte With Mocha Cream Filling
Mom2Rose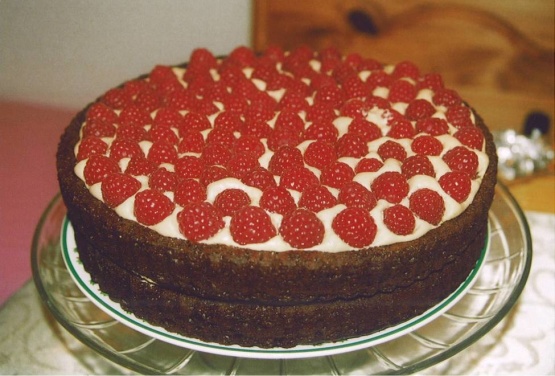 This recipe needs two torte pans (I used Pampered Chef). If you do not have torte pans then follow the box directions to make two 8 or 9 inch layers and then make the cream filling as directed below. Also - This recipe was made using Betty Crocker Supermoist Devil's Food cake and the cake ingredients are listed below for that mix. If you are using a different brand, please follow the box instructions on the necessary ingredients to make the batter.
Split the layers if using 8 or 9 inch cake pans. Spread raspberry jam between those layers, then frost with mocha cream filling.
Preheat oven to 350°F (180°C).
Grease and flour torte pans; set aside.
Prepare cake mix according to package directions; divide batter equally between pans.
Bake 18-22 minutes or until wooden pick inserted in centers comes out clean.
Remove from oven to cooling rack, cool 5 minutes.
Remove cakes from pans; cool completely.
Meanwhile in chilled bowl, beat cream until it begins to thicken.
Gradually add sugar and coffee; continue beating until stiff.
Once torte layers have cooled completely, use half of the Mocha Cream to frost the top of the first layer; place on decorative plate.
Place the second layer over top of the first frosted layer and use the remaining Mocha Cream to frost the top of the torte.
Arrange the raspberries on top of the torte in a decorative pattern (see photo for example).
Keep refrigerated until serving and refrigerate leftovers, if any.