Chocolate-Raspberry Cheesecake
diner524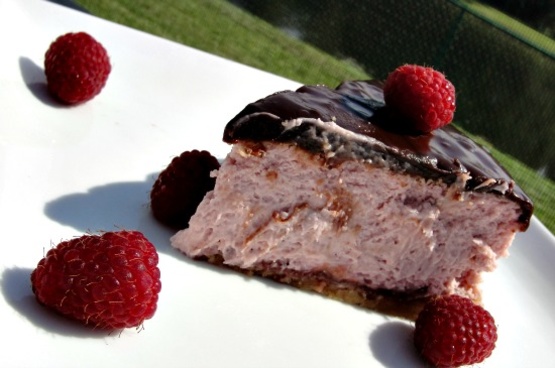 Got this in an email; looks very rich, would be perfect for Valentine's Day...Description for the recipe: "This cheesecake is laced with raspberry flavor, from the preserves brushed over the crust, to the creamy filling, to the fresh berry garnish. To make the dessert extra-special for Valentine's Day, use the raspberries to form a heart shape on the top of the cake." *prep time does not include chilling overnight.*
OMG!!!! This is so good!!! I only made 1/2 of the recipe and used my mini spring-form pan (about 5-6 inches) and it worked out perfectly for us empty nesters. I am not a fan of the seeds from raspberries, and putting this through the medium strainer worked out perfectly (although timely). Just loved the flavor and it had the perfect amount of chocolate on top. Definitely would be a wonderful romantic dessert for Valentines Day!! I followed this as written, buying the Walker (Pure Butter) Scottish Shortbread Cookies, so good!!! Thanks for sharing the recipe and glad to have made it for "Newest Tag".
Heat oven to 350°F.
Wrap outside of 9-inch springform pan with heavy-duty foil.
Combine crushed cookies and melted butter in small bowl; press into bottom of pan.
Bake 8 to 10 minutes or until slightly darker in color.
Cool slightly; gently spread preserves over crust.
Puree thawed raspberries in food processor or blender until smooth.
Strain through medium strainer, pressing with spatula to remove seeds Reserve 1/2 cup puree (Save remaining puree for another use.).
Beat cream cheese and 1/2 cup butter at medium-low speed until smooth Beat in sugar and flour just until blended.
Beat in sour cream, reserved raspberry puree and lemon juice.
Beat in eggs one at a time.
Pour over crust.
Place springform pan in large shallow pan.
Add enough hot tap water to come halfway up sides of springform pan Bake 40 to 45 minutes or until edges are puffed and top is dry to the touch Center should move slightly when pan is tapped but should not ripple as if liquid.
Remove cake from water bath; remove foil.
Cool completely on wire rack.
Refrigerate overnight.
Place chocolate, corn syrup and 1 tablespoon butter in medium bowl.
Bring whipping cream to a boil in small saucepan.
Pour over chocolate mixture; stir until melted and smooth.
Let stand, stirring occasionally, until chocolate is cool but still pourable.
Pour over cheesecake; refrigerate until set.
Garnish with raspberries.
Store in refrigerator.