Chocolate Peanut Butter Pie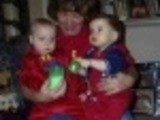 I was given this recipe a few years ago at a Weight Watchers meeting. It is a favorite of my family and at potlucks. My kids don't care it is low in fat & calories - they just like the taste. This was before the point system - so I don't know the values of it.
Directions
Filler Layer 1: Add 2/3 cup dry milk powder to the vanilla pudding mix.
Stir in 1 1/2 cup cold water until smooth.
Beat in the peanut butter.
Spread in bottom of the graham cracker crust.
Filler Layer 2: Add 2/3 cup dry milk powder to the chocolate pudding mix.
Stir in 1 1/4 cup cold water.
Mix until smooth.
Pour on top of the Peanut Butter layer.
Top with 2 cup of whipped cream.
Garnish with chocolate curls from the chocolate candy.
Chill.
Most Helpful
I have seen several WW pie recipes that say to cut into 10 servings instead of 8. That makes the WW points closer to 8 than 10.
Hard to believe that this was made with sugar free pudding. I made my own crust using chocolate graham crackers. The pie was heavenly. A nice treat.
Elmolvsu needs to recheck etools. etools does not have some of the values. Using Keebler Reduced Fat cruse, Jell-O sugar free, fat free instant puddings, Milkman low fat instant dry milk, Skippy reduced fat peanut butter and non-fat Cook Whip, there are 10 points per eighth of the pie not including any chocolate garnish! A delicious recipe, but not very good for weight watchers.