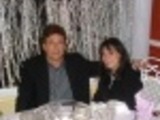 I received this recipe in a recipe-swap-by-mail about 20 years ago, and am finally posting it here for safekeeping. Prep time given does not include chilling time.
1 (9 inch) pie crusts, shell baked and cooled
6 ounces semi-sweet chocolate chips
2 tablespoons sugar
3 tablespoons milk
4 eggs, separated
1 teaspoon vanilla
whipped cream (optional)
roasted chopped almonds (optional)
Directions
Melt chocolate pieces with sugar and milk in double boiler, stirring occasionally. Cool.
Beat in egg yolks, one at a time. Stir in vanilla.
In separate bowl, beat egg whites until stiff. Fold into chocolate mixture.
Pour into cooled pie shell. Refrigerate several hours or overnight.
If desired, garnish with whipped cream and sprinkle with roasted chopped almonds.
Reviews
Most Helpful
This is the most intense chocolatey pie in the world. The whipped cream should not be optional. It is necessary to counteract the intense semi-sweet chocolate.
I think one of the keys in this recipe is to use a double boiler, not the microwave to make the chocolate mixture. This way you have better control of the melting and don't risk burning it. In regards to the previous comment about raw eggs - you should be adding them while the chocolate is still warm. The heat will cook the eggs. This is the same process as making hollandaise. I believe I poured off some of the chocolate mixture to another bowl, added the eggs, whisking them in one by one. Then poured that egg/chocolate mixture back into the main chocolate. You don't want the chocolate boiling, but you want it warm/hot enough to cook the eggs.
I was surprised to see this unrated - as this chef has been on the Zaar quite some time and has great offerings here. I melted the chips as directed, but used the microwave. While waiting for the chocolate and my crust to cool, I separated the eggs and put the whites in the fridge to beat later. When the chocolate cooled, I went to add the yolks to it and realized why this might not have been rated yet. As written, the eggs are raw in this pie. (WHY I did not notice this earlier, I do not know!) Not wanting to take that risk myself, I put the chocolate, with the yolks added, back in the microwave for 1 minute. While I beat the whites, I had the chocolate in the freezer to cool a bit. Am not sure this will thicken correctly with these changes, but will know in the morning and update.