Chocolate Dipped Smoked Almond Bacon Brittle
alligirl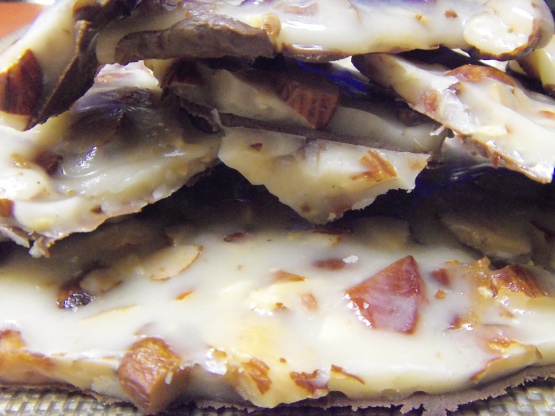 Not even remotely healthy, but oh so good. The chocolate drizzle can be optional. From Jane Rockmill's "I Love Bacon" cookbook. Great as a gift or bakesale.

Oh my goodness, this is sooooo good AND so bad! I reduced the recipe, so I only have to eat 1.5 pounds, instead of 3. I will be hiding this and eating it all by myself. It is like a crunchy flavor explosion in your mouth - smoky from the almonds and bacon, sweet, chocolate-y, salty and peppery. I did successfully reduce the recipe by half, no thanks to the 'servings' function, which should accurately halve everything; it does not. I might make this for a girlfriend going thru something terrible, otherwise, IT IS ALL MINE! Thanks for sharing a lip-smackable recipe, GailAnn!
Cut bacon into bite-size pieces. Place pieces in large saute pan and cook over medium heat until crispy, about 10 minutes. Drain and set aside. Coarsely chop smoked almonds and set aside. Line baking sheet with silicone liner or waxed paper.
In large saucepan, combine sugar, corn syrup and water. Cook mixture on medium-high heat about 4 minutes or until sugar turns thick and syrupy. Slowly add softened butter and continue stirring until mixture emulsifies. Keep cooking and stirring until mixture is golden brown, about 4 minutes longer.
Remove pan from heat. If mixture is not smooth, whisk until it is. Stir in baking soda, salt, peppercorns, crispy bacon bits and almonds. Quickly but carefully pour brittle onto prepared baking sheet. When cool and hard, break brittle into bite-size pieces.
Melt chocolate in microwave in a microwave-safe bowl in 30-second intervals, stirring in between intervals, until mixture is entirely melted but not hot. Cool chocolate to room temperature, then either dip pieces of brittle in the chocolate or drizzle the chocolate on top. Chill brittle until chocolate is set. Store in a tightly sealed container for up to 1 week.