Chocolate Covered Cherry Jell-O Shot
ctech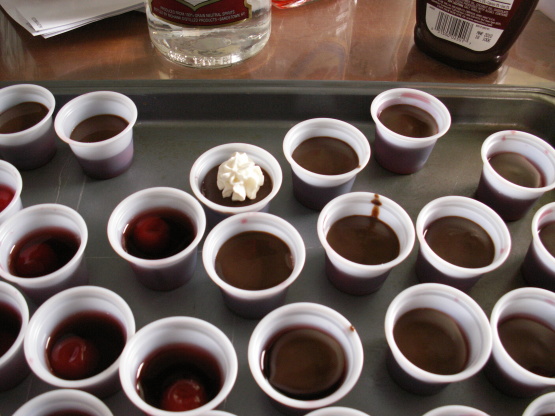 I found recipe at http://www.myscienceproject.org/j-shot-3.html.
Soak cherries in rum for at least 24 hours.
Place one cherry in each empty Jell-O shot cup.
Mix cherry Jell-O and hot water, let cool to room temperature.
Pour into cups so that cherries are submerged.
Add crème de cacao and ½ cup reserved rum mixture from cherries. NOTE: Add some maraschino cherry juice if you need extra liquid to cover the fruit.
Chill until firm.
Cover with a thin layer of chocolate topping and place in freezer for 2 minutes. Top with whipped cream and serve immediately.