Chocolate Chip Maple-Pecan Cookies
loof751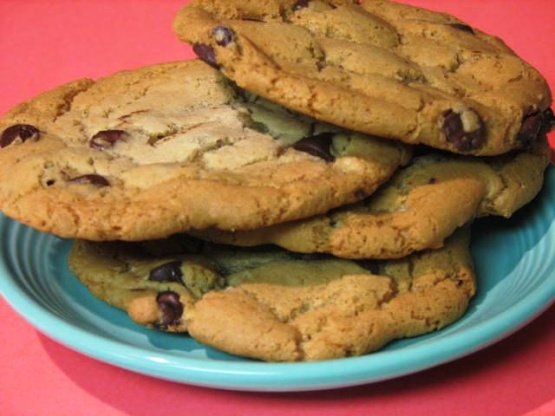 These cookies are outrageously wonderful, they bake out to the perfect texture!!! You can sub walnuts for pecans, melted cooled butter for these, not softened butter! You can shape the cookie batter and then freeze to be baked at a later time. We love these cookies! Been making them for years. They are quite perfect and the unusual size makes it look as if they came straight out of a bakery. I like to make them with white chocolate chips and cranberries as well. I'm not sure about the question whether melted butter is needed but frankly I find it easier because I always seem to forget to take butter out of the fridge in time.
Set oven to 375°.
Line 2 cookie sheets with parchment or wax paper.
In a small bowl whisk together flour, baking soda and salt.
In a large bowl using an electric mixer beat melted butter with both sugars on high speed until fluffy (about 5 minutes).
Add in eggs one at a time then egg yolk beating until creamy.
Beat in the maple extract.
Reduce the speed to low and add in the flour mixture until JUST blended.
Stir in chocolate chips and pecans.
Chill the dough for about 2 hours until semi-firm, or up to 24 hours.
You can scoop the dough onto baking sheets and freeze to use later if desired.
Scoop about 1/4-cup batter onto cookie sheet, leaving about 3-inches apart.
Flatten mounds into 3-inch rounds using moistened palm of your hand.
Repeat with remaining cookies (you will have to use two baking sheets for this and bake in two separate batches).
Bake 1 sheet at a time for about 13-15 minutes.
Transfer the cookies to a rack to cool and continue with remaining cookies.