Chocolate Brownie Cupcakes
Redsie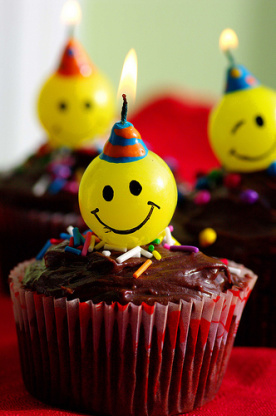 From 125 Best Cupcakes Recipes.

The flavor of these brownies is excellent. Haven't ever had brownies with almond extract as one of the flavors and wasn't sure how I would like it - but I did. I had way more batter than I needed for twelve cupcakes - put some in a small pan that I use for making hamburger buns and what I did put in the cupcake liners rose up and over the edges - think this makes more like 18-24 cupcakes - will try this again.
Preheat oven to 325F and use muffin pan lined with paper liners.
In a small bowl, mix together flour, cocoa powder, baking powder and salt.
In a large bowl, whisk together granulated and brown sugars and butter until smooth. Whisk in vanilla and almond extract. Add eggs, one at a time, beating well after each addition. Add flour mixture, beating until combined. Stir in chocolate chips.
Scoop batter into prepared pan. Bake in preheated oven for 28 minutes or until a tester inserted into center comes out with a few crumbs attached and a little melted chocolate. The tops of cupcakes will not spring back when touched.
Let cool in pan on rack for 10 minutes. Remove from pan and let cool completely on rack.
Top cooled cupcakes with favorite frosting.