Chinese Take-Out: Orange Chicken
lazyme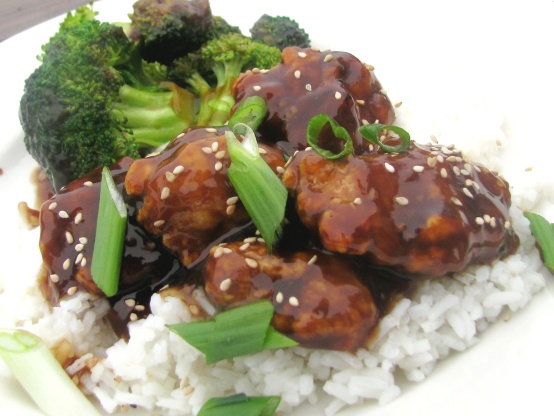 I've found it easier (and cheaper) to make Chinese food at home. No more waiting for the delivery driver to bring you cold food, no more waiting to be served in a restaurant, no more tipping. This is one of many Chinese recipes that I prepare, and we feast at home for a fraction of the price. The best part is, we know it is going to be good. I hope you enjoy this one of my many "stay at home" Chinese dishes. Prep time includes 1 hour marinade time and 1 hour refrigeration time after coating. Step #4 has been edited in response to googles2 review. Thank you Chef for bringing this to my attention. :)

Top Review by KateL
In my Best of 2013 cookbook! Loved the bite from the teaspoon of Sriracha sauce; it was not overpowering. That kept the sauce from tasting too sweet. This was time-consuming; it would help to have a sous-chef dredging the chicken cubes while the chef patiently cooks a small batch at a time. On my own, I dredged all the chicken cubes and spaced them on wax paper on a dinner plate (took 4) and chilled them until I started cooking. I lined a deep skillet with paper towels to collect the cooked chicken cubes, and that worked like a charm. I pureed my marinade in a blender. I forgot to sprinkle green onions for the photo; they are a good counterpoint to the sauce. I'm glad I stepped out of my comfort zone to try this recipe; it's a keeper! Made for Please Review My Recipe tag game.
Thoroughly mix together all the marinade ingredients. Put chicken pieces into a large zip-lock baggie. Add 1/2 cup of marinade to the baggie and seal, reserving the rest. Toss chicken to thoroughly cover and place baggie into a glass dish and refrigerate for 1 hour, tossing again after 30 minutes.
Meanwhile, place beaten eggs in a bowl on the counter. Place the 1 cup of cornstarch into a pie pan. Put the 1 cup oil into a deep, heavy bottom skillet. Place remaining, un-used marinade into a sauce pan.
Remove chicken pieces from the marinade, and place on a plate. Discard used marinade.
Dip the chicken pieces into the beaten egg, then dredge thru the cornstarch. Gently press pieces to be sure they are coated. Place chicken into the fridge for 1 hour to set the coating. EDITED: Place the dredged chicken pieces on a wire rack over a sheet pan to refrigerate, I do not recommend leaving the chicken pieces in the pan of cornstarch.
After 1 hour remove the chicken from the fridge and heat remaining marinade over medium heat to a boil, stirring occasionally. Combine water and the 2 tablespoons of cornstarch, and while stirring constantly, slowly add enough slurry to the boiling marinade until desired thickness (you may not need it all). Boil 1-2 minutes and remove from heat.
Heat oil in a deep, heavy bottom skillet over medium high heat. Oil is hot enough when a pinch of cornstarch is sprinkled in and it bubbles. (Sorry, I don't use a thermometer).
Now, working in batches, carefully add a small portion of the chicken pieces to the oil and gently roll for 2 minutes (or until chicken is cooked thru). Do not over crowd the pan because it will drop the oil temp and you will have greasy chicken rather than crispy. Remove the pieces using a metal slotted spoon (or a spider) to a paper towel lined plate, let oil temp return and begin another batch.
When all chicken pieces are done and thoroughly drained, toss them into the pan with the heated marinade. Serve immediately over white rice and garnish with sesame seeds and scallions, if using.
Enjoy!