Chilled Pear and Chicken Soup
Debbwl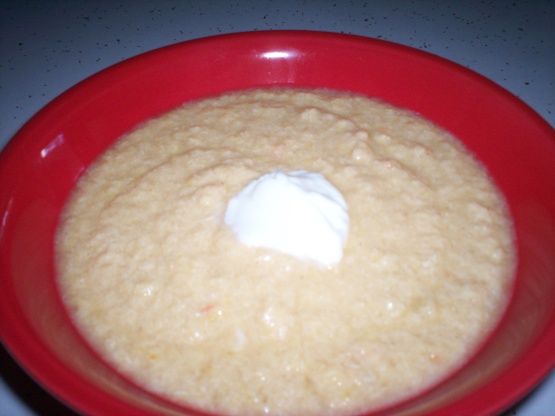 A flavoursome light soup that is served chilled. A delicious choice for summer dining. It's ideal before a heavier main course or served for lunch with warm crusty bread rolls. This recipe has been in my Word files for some years. Unfortunately when I first saved it, I did not include any indication of its source. All I know is that it is clearly from an Australian website and that the original recipe was Catherine Saxelby's. Thank you, Catherine. What I have posted here is my adaptation of Catherine Saxelby's recipe. I have added several ingredients and changed several others. I'm sure that you will do the same when you make it. I have not, however, tried it as a warm soup, probably because I have only ever made it in summer. Please let me know what it's like if you DO serve this warm.

Top Review by Debbwl
Made as written. The texture was getting us, blended as described and after discovering we did not like the texture blended a second time better, but still not to our liking. It is a cool soup with a very strong chicken flavor. If making aging I would cut the chicken in half. DH said it was a nice cool light supper after a hot day in the yard. As for myself enjoyed the pear and ginger part just felt it was over powered by the chicken. Made for Newest Tag Game.
Drain the pears, chop into large chunks, discard the juice (or drink it!) and set aside.
Heat the oil in a large sauté pan with a lid (preferably non-stick), add the onion, red pepper, celery and chicken and cook over a medium heat for 3-4 minutes, while stirring.
Add the stock and bring to the boil.
Reduce the heat to low, cover and continue cooking for another 10 minutes or until the onion, red pepper and celery are soft.
Add the pears, cinnamon, ginger and white wine. This cools the soup down so that you that you really don't need to allow much more time for cooling before you process the soup.
Puree the soup in batches in a food processor or blender until smooth, transferring each batch to your serving bowl.
When all batches have been processed, mix the soup well to ensure that the consistency is even.
Cool the soup in the refrigerator until well chilled.
To serve, divide the soup between 4 soup bowls and place a dollop of yoghurt in the middle of each bowl and garnish with a sprig of parsley, mint or some other fresh herb that you have on hand.