Amyadell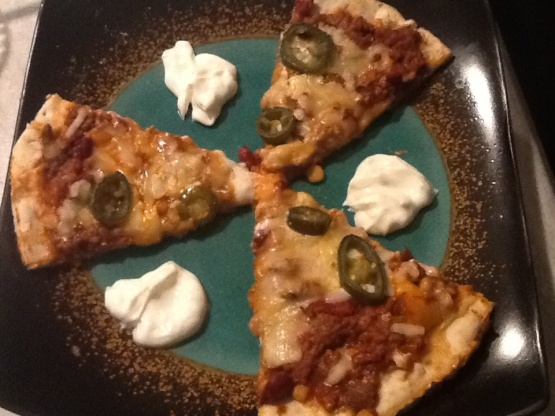 When I make my chili (Carrie's Meat Chili) it makes an awful lot, so I try to come up with different things to do with the leftovers. I got to thinking that this may actually be good--give it a try. Kids LOVE it!

I was looking in my fridge, seeing chili and wanting pizza... Lightbulb appeared over my head... Google "chili pizza" and see this... GENIOUS! I also make monster pots of chili, and gave tons left over... Within two minutes, this recipe was complete and on the oven ( I used the premade crusts from Costco )... I can't WAIT for the timer to beep! :D
1

premade pizza dough

2

cups chili (I use mine #99698)

3

cups of shredded Mexican blend cheese

Toppings of your choice

olive
guacamole
Roll out pizza dough onto a pizza stone or an aluminum pan if you don't have a stone.
Spread chili on top of dough as you would sauce in regular pizza.
Top with Cheese.
Place in 425 degree oven for 15-20 minutes or until crust browns and cheese it bubbly.
Place all toppings in bowls on table, slice pizza and serve with toppings.
Everyone adds what they like to the top and mmm. If you like you can also bake with the toppings already on the pizza but we like the fun of putting them on after.
I hope you enjoy!