2Bleu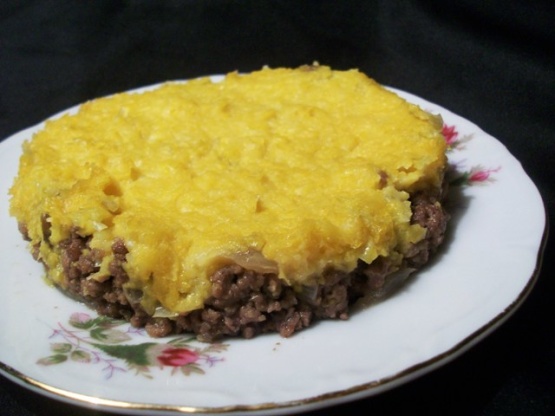 This pie is a little different there is no crust the binding is the corn pureed. It has a little bit of a kick to it but very good a flavorful.

I chose this recipe because I'm doing my own private Zaar World Tour. It's hard for me to review, since I only had a taste. My family of 5 men ate it up and had mixed reactions. Overall they seemed to like it, some saying it was "really good" and others so-so. I couldn't find aji panca chiles so I used a combination of other chiles including chipotle as another reviewer suggested. I don't think it really made six servings, and it took a bit longer than the 10 minutes of prep time. I think the sugar could have easily been eliminated in the corn crust. Thanks for posting.
In heavy skillet, brown the meat drain off the fat and remove.
to a 3 - 4 quart casserole dish and set aside.
Add oil to the skillet and saute onion, chile, cumin, paprika, salt, pepper and oregano.
Add the sauteed mixture to the meat and mix.
Arrange the olives over the top.
Put corn, milk, and sugar in blender and puree.
Heat a bit of oil in a skillet, add pureed corn and simmer until the corn mixture starts to thicken.
Pour this mixture over the meat mixture.
Bake in 350 degree oven for 45 to 60 minutes or until top is brown.
Remove from oven and let sit for 10 minutes before serving.