Chickpea and Tomato Soup (Shawrbat An-Nikhi)
Maito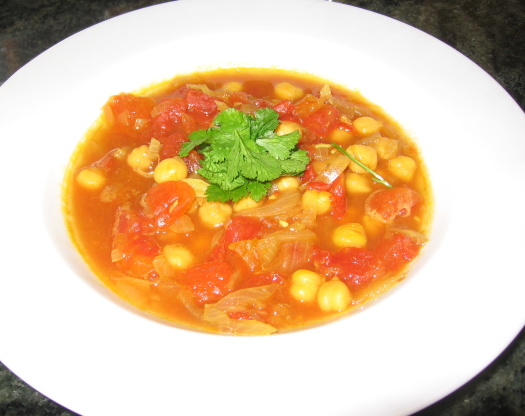 From: "Classic Vegetarian Cooking from the Middle East & North Africa" by Habeeb Salloum. Arabian Gulf. See my Gulf Spices (Ibzar). Time does not include soaking chickpeas overnight. I'm sure canned chickpeas could be used to save time.

This has really good flavour but would be too spicy if I added the cayenne too so I just omitted it as it was already in Recipe #257499 which I used and even that I cut down the cayenne quite a bit. I think I added extra chickpeas because mine for which I blended 3/4's was lighter in colour than mikekey's picture. I added a bit extra fresh cilantro as we love it. I would make this again, maybe not pureeing it at all.
Place chickpeas and water in a saucepan and bring to a boil. Cook over medium heat for 2 to 3 hours or until chickpeas are well cooked, adding more water if necessary.
In the meantime, heat oil in a frying pan and saute cilantro and onions over medium heat for 10 minutes.
Stir in remaining ingredients and cook for another 10 minutes.
Add frying pan contents to the chickpeas and cook over medium heat for 20 minutes; then remove from heat.
Use an immersion blender to puree the mixture in the pot, add more water if desired.
Heat through and serve.