Chicken with Artichokes and Lemon
Fiddler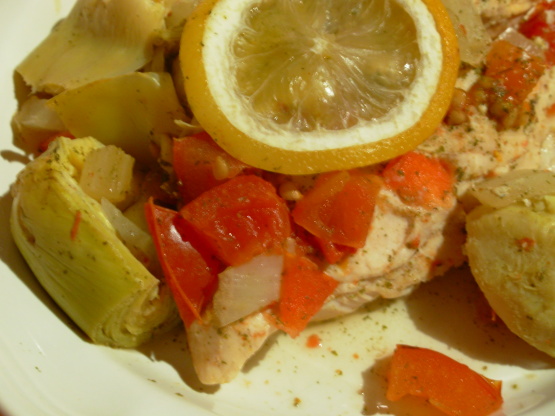 One-dish, low-fat, tasty and gourmet...does it get any better than that?! So elegant that your guests will never guess it was this easy! Originally from "The Lighter Side of Italy."

Great recipe especially considering the low calories! My only substutions: all I had was marinated artichokes, so I rinsed them off and then soaked them in water for a couple of hours to draw out salt... and based on najwa's comment, I left out the seasoning salt DH LOVED the dish! THANKS so much for posting
Preheat oven to 375F.
Spray shallow 2-quart casserole or baking dish with non-stick cooking spray.
Add ingredients in order given; mix gently.
Cover and bake 40 min, or until chicken breasts are tender to fork.
For thicker sauce, remove cover for the last 15 min of cook time.
May be made earlier in the day and stored in refrigerator until time to cook; also freezes for up to 6 wks.