Chicken Tortilla Soup (Vita Mix)
PaulaG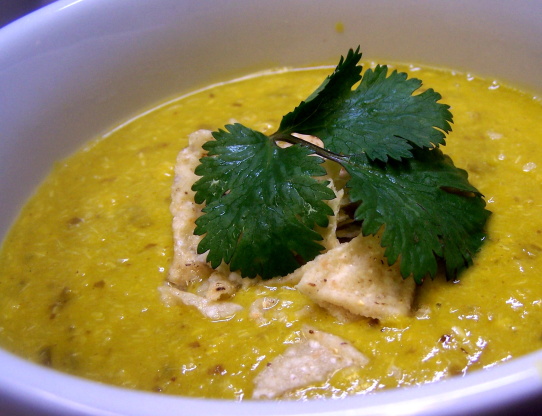 You can't beat making soup start to finish in 10 minutes.This is easy no peeling and very quick great main meal or snack! And you don't cook out all the vitamins because it's not simmering on the stove for hours.Clean up is easy just the Vita-Mix.The results are hot which you can't get in a blender or food processor. The first half becomes smooth and cream while the second half added on low speed gives the soup texture. Oh almost forgot thanks to Alan Hall for the recipe, the guy that sold me the machine.

Using this super easy, no-peel, "to die for " recipe, I omit the rice, add cooked chicken, (the meat from the whole roasted ones from the grocery store is awesome) and tortilla chips. A little fresh cilantro in the soup and for garnish, makes my day. Tip: Most times I just add a whole "itty" yellow squash if I don't have zuchinni, frozen chopped red and green peppers if I don't have fresh, and I can't tell the difference. I LOVE MY VITA MIX.
First 14 ingredients blend at high speed in Vita-Mix for 4-5 minutes.
No need to peel any of the vegies, you can even leave the skin of the garlic on.
Then the last 6 ingredients blend 5-10 seconds on #1 variable speed.