ImPat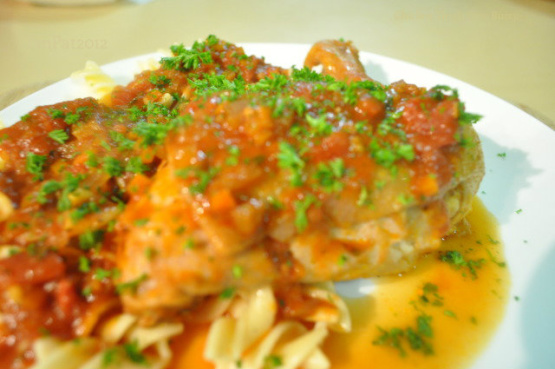 An inexpensive alternative to the more pricey veal. The longer it cooks the richer the sauce gets. I've never cooked it in the crock pot but I suppose you could. My husband is not a fan of dark meat chicken but in this recipe you would think you were eating veal.

This was so easy and really delicious. To finish the dish, I removed the thighs, pulled the meat, returned it to the sauce and then added 1/2 lb of cooked pappardelle noodles- was a huge hit. Thanks for posting!
Salt and pepper thighs and saute in 1T. olive oil.
Chop onion, carrot, celery and garlic into a fine mince.
Remove chicken thighs when brown on both sides.
Add veggies to pan and cook till soft.
Deglaze pan with red wine and reduce by half.
Add tomato sauce, diced tomatoes, oregano and rosemary.
Cook till bubbly then add thighs back to the pan.
Simmer 40-60 minutes.
Meanwhile combine chopped parsley, lemon zest and chopped garlic.
Before serving add the last 3 ingredients.