Chicken Tenders With Lemon Spinach Rice
Nimz1466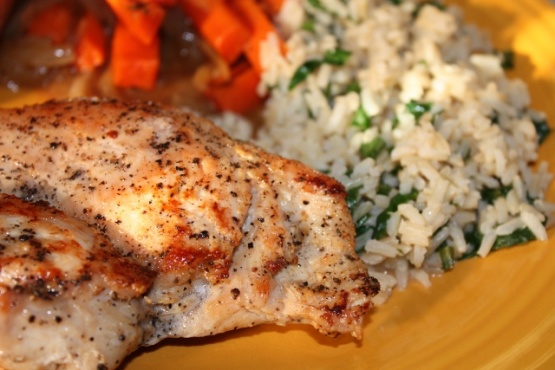 From AOL recipes. "In a complete meal, a little bit of chicken goes a long way. The whole grains in this dish make it both heartier and healthier."

I loved the rice in this recipe with the lemon and spinach. I didn't have the instant so had to cook my about 30 minutes according to the package and it was still a little on the hard side. I also added a little more lemon to my serving and some salt and pepper. So, so good. The chicken I seasoned a little more than just the garlic. I added a good helping of pepper a tad of salt and a little season salt. The garlic was delicious and I put it on top of the chicken to cook. I only had chicken breast which I adjusted the cooking time for. I will definitely make this one again. Thanks. Made for Spring 2012 PAC
In a large skillet, melt the butter over medium heat, then add the chicken and garlic. Cook until the chicken is golden brown; set aside on a plate and keep warm.
Add the rest of the ingredients except the spinach to the skillet and bring to a boil over high heat. Cover and reduce heat to low and cook until the juice is absorbed (usually about 10 minutes).
Add the spinach to the skillet and mix. Serve on a plate topped with the chicken.
NOTE: When entering the ingredients Recipezaar is only recognizing "rice" as the ingredient and not whole grain brown instant rice. Please be aware that the fiber content listed for this recipe will likely be based on the average, run-of-the-mill white rice.