Chicken Stir Fry for Ginger Lovers
Sageca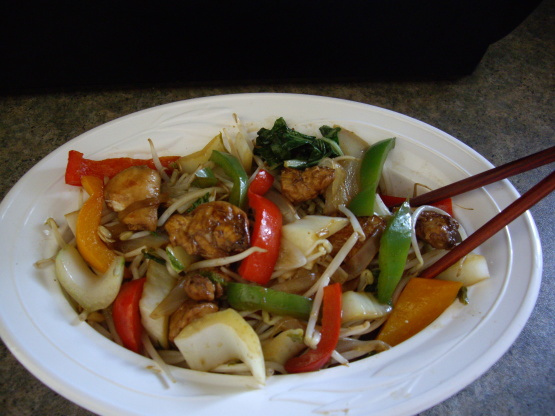 This delicious chicken stir fry recipe is quick and easy to make, plus it's super healthy, aromatic and flavorful. This is a superb stir fry recipe that's extra good-for-you.

fantastic!! i am a ginger lover, so this hit the spot. I even added some more slivered lol. I also added snow peas since i had some that needed using. I marinated for a half hour in my food saver vacuum pack bag which i put all the ingredients in, it takes much less time, but i think if you forget to marinate til dinner it will still be delicious with the amount of ginger
Cut chicken into 1/2 inch cubes
Prepare marinating sauce and add to chicken cubes.
Sit in refrigerator for at least 2 hours
Heat the vegetable oil in a large skillet or wok.
Drain chicken keeping the juice.
Stir fry the chicken for 4 minutes over high heat.
Push the chicken to the side and add onion, celery, bell pepper and ginger.
Add reserved marinating juice
Cook, stirring constantly for 5 minutes.
Add Bok choy; cook another 2 minutes,
Add the sprouts and stir-fry another 2 minutes.
Serve while sprouts are still crisp.
Cooking time does not include marinating time.