Chicken Pot Pie with Buttermilk Biscuit Crust
Derf2440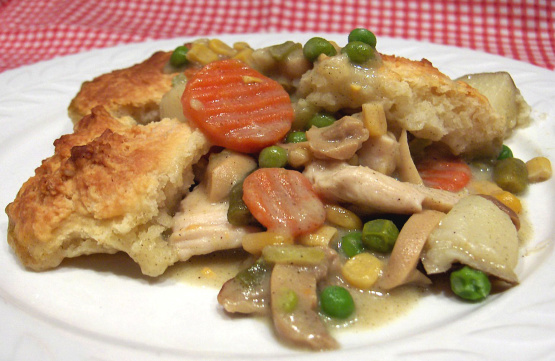 This chicken and vegetable pot pie is extrememly comforting. Full of tender veggies and with a broth enriched sauce.

This was sooo excellant!! I want to give it a 5 or more, but You left one step of the instructions out so I can only give you a four, perhaps you will correct it and I will change my review to a 5 which it deserves. Step 7 is to set aside the potatos/celery/broth mixture; and is never mentioned again, I know it needs to be added to the bowl with the other veggies and sauce, but someone else might not know. So now the real review ... The flavours were wonderful ! but instead of boiling the chicken I cut into cubes and browned them in a frypan, to get nice brown bits and deglazed the pan with chicken stock in the same amount as if I had boiled it and used it the same as instructed for the potato/celery mix. Also added some black pepper with the poultry season to the white sauce. Other than that I followed the recipe. The biscuits were really wonderful, lovely crunchy on the outside and soft inside, delicious!! I will definately be making this again, the best ever pot pie, thanks for posting it!!!
Preheat oven to 350 degrees.
Spray a 2 quart casserole dish with cooking spray.
In medium saucepan combine chicken breasts and water.
Bring to a gentle boil and simmer til done. (about 15 minutes)
Remove chicken from pan. Saving broth for later.
Shred chicken when cool enough to handle, set aside.
Add potatoes, celery and bouillon cube to reserved broth, bring to a boil and simmer for 12 mins or until veggies are tender. Set aside in heavy saucepan.
Melt butter over low heat, add 2 tbsp flour, stirring until smooth.
Cook for 1 min stirring constantly.
Gradually add milk and cook over medium heat, stirring constantly, until mixture is thick.
Remove from heat and stir in poultry seasoning.
In large bowl combine shredded chicken, frozen veggies, sauce and mushrooms.
Spoon into prepared casserole dish and set aside.
In small bowl combine 1 cup flour, baking powder and salt.
Cut in remaining 2 tbsp (cold) butter with a pastry blender until the mixture resembles coarse meal.
Stir in buttermilk until just mixed.
Spoon the biscuit dough in lumps over the chicken mixture.
Bake for 1 hour, or until biscuits are golden and mixture is hot and bubbly.