gailanng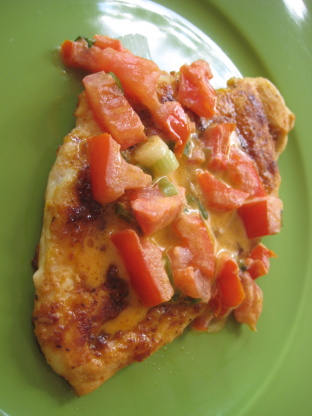 This is a wonderful main dish for company or just when you want something a little special without a lot of fuss.

My DH said to say "definitely 'over the top' good", and I must say, I agree with him. This tasted much more complicated than the number of ingredients should make it. Totally delicious - you must try this! It's soooo simple to make. I made this exactly as written, however, I think I had the heat too high when adding the cream and tomatoes...the sauce "broke" a bit, but that was my fault -- it still tasted wonderful (and we'll be fighting over leftovers tomorrow, believe me). Next time, I'll take the pan off for about a minute before adding the tomatoes and cream...and make sure to have plenty of bread available to soak up the wonderful sauce. What a winner! I'll add this to my repertoire of "company worthy" recipes. Great recipe, MG - thanks!
Place chicken breasts between 2 pieces of thick plastic wrap and pound until meat is 1/4" thick.
Heat oil in skillet.
Season chicken with salt& pepper, then dust with flour.
Saute chicken in oil till golden then remove to a platter.
Pour off fat from pan.
Remove pan from heat and add vodka, stir, return to heat and cook stirring until vodka is nearly gone to deglaze the pan.
Add broth and lemon juice to pan.
Return chicken to pan, cook each side 1 minute then transfer to a warm platter.
Add tomatoes and cream to pan.
Heat through, then pour over the chicken.
Sprinkle top with scallions for garnish.