Peter J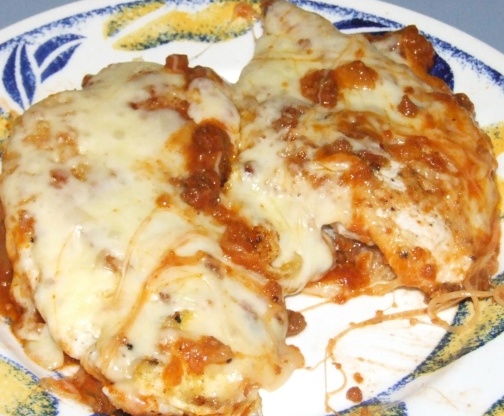 Tasty, easy and quick. Try it with panko, especially light Japanese breading, and fresh mozzarella, boconcini, if it's available. Yum.

I made up something similar to this one. The only difference was that I put the sauce on top of the cutlet then added the mozzarella cheese. This went over big with the family, especially my SIL. I used homemade breadcrumbs that I had sitting in the freezer. I would do this one again!!!
Preheat broiler on low heat setting, with rack 4" away from heat source; slice the chicken breasts in half horizontally; gently pound inside plastic wrap, if necessary, to form all four cutlets to the same thickness; season with salt and pepper.
Combine the panko and Parmesan in a shallow dish; pour egg in another shallow dish; dip chicken in egg, coating both sides; coat both sides with panko mixture; set aside.
Pour spaghetti sauce into a baking dish or rimmed pan; using a nonstick skillet, fry the cutlets in the heated oil until golden, 1-2 minutes per side; blot on paper towels and transfer to baking dish.
Place mozzarella on top of chicken; broil 5-8 minutes until cheese is melted and browned in spots, and sauce is hot.