Chicken or Turkey Pot Pie
Luschka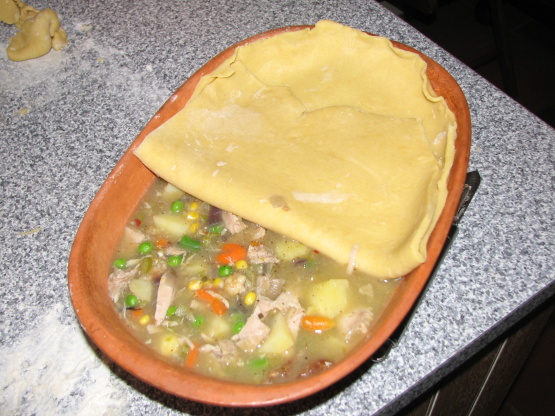 Ultimate in comfort food dinner, and very easy to make. I got this as a "starter" from Emeril 5-6 years ago, and altered to represent real life circumstance of "leftovers", but the results are to die for. Leftover stuffing can also be added, and this kicks the spicing up "differently", given the variations of how you might choose to grind giblets, neck meat, etc into it, and/or use 12 grain bread for stuffing mix.

Well! After the other review I was a bit nervous of making this... Christmas has not been good to our wastelines! Never the less, I made it for 5 people for dinner last night and the only substitution was that I used a little Olive Oil in place of the cup of margarine. Everyone raved about it, and it was a real success. From the left over crust dough, my father in law cut an L and placed it on top, to show it's my first time with the recipe and it's a learner pie! It won't be the last time though. It was simple and quick and delicious. Thanks Chef!
Melt the margarine/butter in a pan at low heat and add celery, garlic, peppers and onion and cook until translucent.
Add gravy and/or chicken stock and heat until bubbly, then add flour and or cornstarch, mixing well to form a "roux".
Add potato, chicken/turkey, carrots, and peas.
Heat until at a full simmer.
Season with salt & pepper, paprika, and poultry seasoning, to taste.
Empty into a Dutch oven and cover with a pie crust, venting to suit.
Cook in a 350°F oven for 90 minutes, and serve.