Chicken Lime and Cashew Nut Stir-fry
Bergy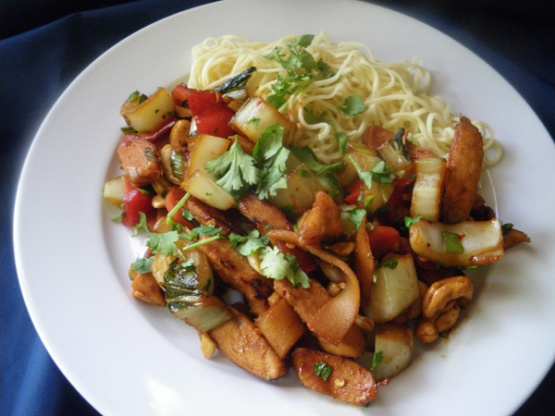 Great flavors and textures in this yummy, Asian stir-fry recipe. Vary the chilli heat according to your preference.

Top Review by Bergy
This is a 5 star plus recipe - We Loved it! I used chicken skinless, boneless breasts (I had them on hand). Did not have coriander root so used a generous teaspoon of powdered coriander. I am not familiar with a Kaffir lime so used a regular lime- The flavors all came together beautifully. I seved the noodles on the side but next time I will mix them in as the recipe suggests. Thanks Daydream for posting this wonderful recipe
16

ounces boneless chicken thighs, sliced into strips

8

ounces fine egg noodles

1

tablespoon clear honey

2 -4

tablespoons vegetable oil (for example peanut or sunflower)

1

tablespoon finely chopped ginger

1

clove garlic, finely chopped

8

coriander roots, scraped and finely chopped (cilantro)

1

hot red chile, finely chopped (remove the seeds and use less if you don't like it too hot)

3

spring onions, sliced (green)

1

medium carrot, cut into thin strips

1

small red bell pepper, chopped (capsicum)

1

head bok choy, coarsely chopped

2

tablespoons dark soy sauce

2

tablespoons ketjap manis (sweet Indonesian soy sauce)

2

tablespoons toasted sesame oil

1

kaffir lime, zest and juice
1⁄3-1⁄2 cup chopped fresh cilantro leaves

2

ounces unsalted toasted cashew nuts
Cook the noodles as per the instructions on the packet, drain and set aside.
Heat a large wok to a high heat.
Add a little of the vegetable oil to the wok, and when it is hot, stir-fry the chicken in batches until sealed and half-cooked.
Return all the chicken to the wok, add the honey, and continue cooking until the chicken is fully cooked and a rich golden colour.
Add a little water to the wok, as necessary, just to prevent the chicken and honey from sticking.
Remove the chicken and honey mixture from the wok and set aside while you cook the remainder of the dish.
Heat the remaining vegetable oil in the wok and saute the ginger, garlic, coriander roots and chilli for about a minute.
Add the vegetables and stir-fry over high heat until just tender.
Add the pre-cooked noodles and saute for a minute or so before returning the chicken to the pan.
Add the soy sauces, sesame oil, the lime zest and juice.
Heat through and correct the seasoning, adding a little more honey if desired.
Finally, stir through the fresh coriander.
Serve with a scattering of cashews over the top.