Photo Momma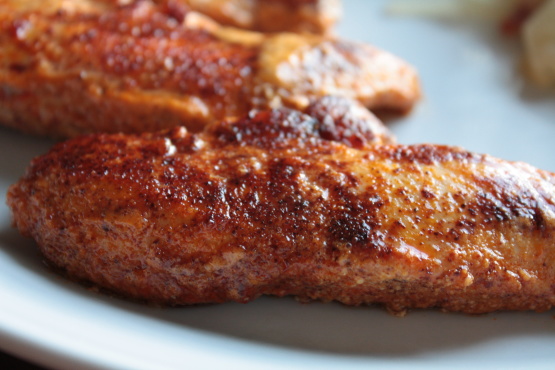 This recipe comes from the restaurant "Brennan's" located in New Orleans. No one has to know how simple and quick it is. I posted this recipe exactly as it was in the book, however, if you like a little "heat" please feel free to add some cayenne pepper to taste.

Top Review by Ninna
Thank you Luby for a great recipe. As I try to substitute low fat ingredients for most recipes, I wondered how I would go doing it for this one without sacrificing flavor but it worked out great. I substituted olive oil spray for the butter and skim evaporated milk for the cream in the sauce – I didn't add butter to the sauce at the end of cooking either. I cut each chicken breast into 4 strips and shook them in a freezer bag along with the dry ingredients until they were evenly covered. The sauce didn't thicken like it would have if I had used the cream but the flavor was still there and the chicken strips in the thin sauce were great served over rice. Glen.
Combine the seasonings and coat chicken breasts.
In large saute pan melt half of the butter and cook chicken over medium heat for about 7 to 8 minutes, turning once.
Pour the cream into the skillet and lower the heat.
Simmer for several minutes, stirring until the sauce thickens then add the remaining butter.
When butter is melted place chicken breasts on four plates and top with the sauce.