Chicken in Basil Lemon Cream
ImPat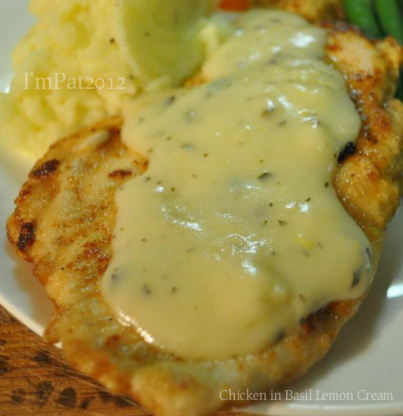 Don't let the instructions scare you off this marvelous recipe. They are just very detailed and thus simple to follow. This can even be made ahead and frozen*. Source: United States Personal Chef Association Hands on Training.
Very good chicken! It is easy to make with simple to follow directions. I made half the recipe and used b/s chicken tenders since that is what I had. The sauce was a nice balance between lemon and basil. Will make again and serve with pasta and dice the chicken. Made for PRMR.
Rinse the chicken with cold water and dry on paper towels, trim off any excess fat and tough tissue.
Pound out the breast using a meat hammer until tenderized and an even thickness and dredge chicken in flour seasoned with salt and pepper, shaking off excess flour.
Cook the chicken breasts in a pre-heated non-stick skillet with two tablespoons of the oil over medium high heat until just done.
Place the breasts aside on a plate and cover while making sauce.
Heat the chicken stock in a microwave, approximately two minutes on high then heat the remaining tablespoon of oil and butter in a small skillet or saucepan over medium heat, careful not to burn butter.
Add the flour and stir into a paste to create a roux, continue to cook the roux over medium heat until it becomes a blonde roux, approximately two-four minutes.
Remove the roux from the heat. add the heated chicken stock to all roux slowly, in stages, being sure to return the roux to a smooth paste or slurry after each addition.
When all of the chicken stock has been incorporated, return the pan to medium heat and cook until the stock has thickened into a veloute, while still on medium heat, add the lemon juice, lemon zest, basil, white wine, salt and sugar to the veloute.
Stir and cook for two minutes, then slowly add the cream. At this point, add additional stock or reduce the sauce to the desired thickness and adjust the seasonings to your personal taste.
Remove the sauce from the heat and pour over the chicken breasts.
*NOTE: This dish freezes nicely. If you are making ahead, cook sauce, pour 1/2 cup or more over each chicken breast, covering the chicken completely. Store in a refrigerator or freezer. To reheat (if frozen, thaw in the refrigerator the night before the day of consumption) heat in microwave using 70% power for approximately 3 minutes or until hot throughout.