Dawnab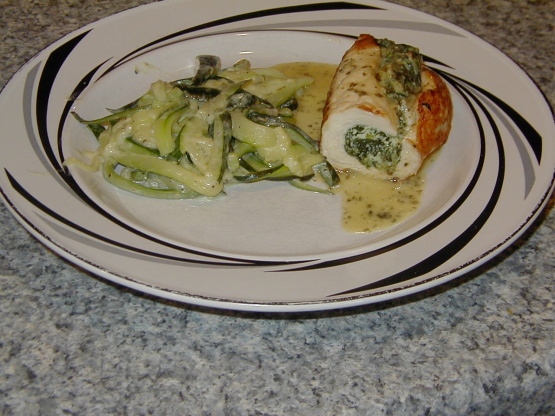 Just Cher and I are doing the South Beach Diet and she asked me to share a chicken recipe I created. How could I resist not calling it Chicken for Chering. Get it?

The only change I made was to scale down the recipe to feed 2. It's a good start, but there are some changes I will make in the future....1) The sauce needs to be thicker- I will either add some flour or corn starch and 2) The chicken itself was a little bland...I will season it with some poultry seasoning or something before adding the filling next time. We are trying to eat low carb and this was a good recipe to try...I think with those 2 small changes it can be excellent. We will try this again.
Combine spinach and ricotta.
Roll each piece of chicken with an equal amount of stuffing, secure with toothpick.
Sear chicken in non-stick pan--about three minutes on each side.
Transfer seared chicken to baking dish and bake at 350 for about 30 mins or until juices run clear and chicken is done.
Meanwhile combine all sauce ingredients in a small sauce pan.
Bring to a boil and stir.
Reduce heat and simmer sauce stirring occasionally.
Serve sauce over chicken.