Nimz1466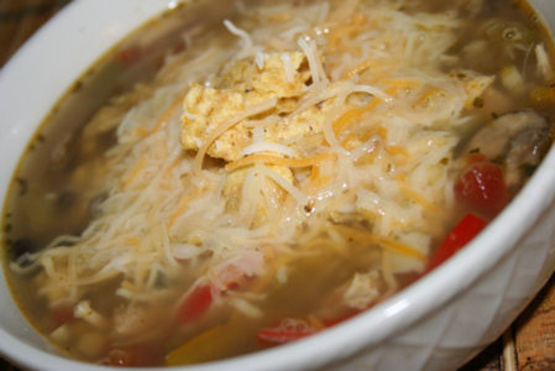 This soup came about as a result of a flavor that I enjoy the fajita and I wanted to share that flavor in my soups so I tired it and brought it to work - it was a hit I hope you enjoy it as well!! Feliz Navidad

We enjoyed this a lot. Very easy to put together. I could not find the sazon con azafran seasoning so I used fajita seasoning. I also added some extra broth along with some chicken granules to give it a richer flavor. Could not find the frozen peppers, so used 1/2 of a red, 1/2 yellow and 1/2 green pepper which worked well. Topped this off with a Mexican blend of cheese and tortilla chips. Thanks so much for a wonderful soup.
14

ounces bell peppers (three pepper blend by Pict sweet brand for fajita)

1

cup onion (diced)
1 1⁄2 cups celery (sliced )

1

cup mushroom (sliced)
3⁄4 cup red bell pepper (sliced in 1/4-inch x1/2-inch strips)

3

tablespoons garlic (rough chopped)
14 1⁄2 ounces Del Monte zesty jalapeno pepper diced tomato
15 1⁄2 ounces black beans

29

ounces chicken broth (2 tins college inn)

7

ounces frozen corn and black beans (pict sweet with Mexican seasoning)

1

bay leaf

1

teaspoon cumin

1

teaspoon coriander

2

teaspoons cilantro

1

sazon con azafran seasoning

1

teaspoon salt

1

teaspoon black pepper (coarsely ground fresh)

2

cups cooked chicken (pre cooked sliced chicken, beef or turkey any will work or left over)

Toppers

rice (I used Forbidden black rice but any would do)
guacamole, sauce
In a large soup pot add 1 tsp olive oil add onion, garlic, celery, mushrooms and fresh bell pepper. Sauté until onion is clear approximately 5 minutes.
Add tomatoes, chicken stock, beans and bay leaf cook for 15 minutes.
Add spices and frozen peppers and corn. Add black beans and meat. Cook for 25 -40 minutes over medium heat. Check for seasoning - add more heat if you like add more cilantro, cumin etc - this is really all about your desired level of taste - make it yours).
Serve in a large bowl with your favorite Mexican toppings - enjoy.
Feliz Navidad - a great change from the American standard!