Chicken Enchiladas...white Sauce...rich!
vrvrvr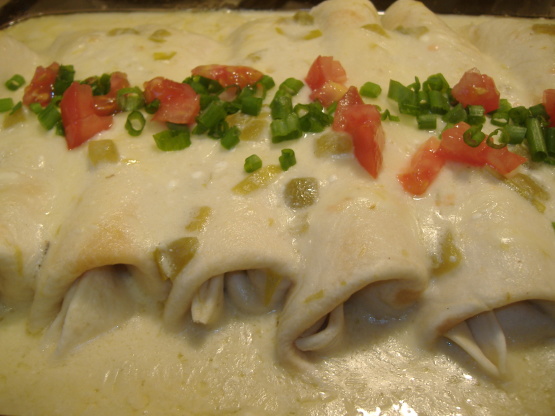 From an old Southern Living mag. Top these with fresh tomatoes, iceberg lettuce, sour cream and salsa. Hope you enjoy these!

Very good!!! When I boiled my chicken to use in this recipe, I added to the water salt, pepper, dried onions and cayenne pepper. Used 2 cups of the broth from the chicken that I had just cooked. I also added a heaping teaspoon of pureed chipotle pepper w/adobe sauce to the sauce. We like it spicy.
In medium saucepan, melt butter. Stir in flour, add chicken stock, heat and stir until thickened and bubbly.
Add sour cream, green chilies and cayenne. Remove from heat.
In a separate bowl, toss cooked chicken and chopped onion. To this bowl, add 3/4 cup sauce mixture from the saucepan. Stir well.
Fill each tortilla with scant 1/3 cup chicken mixture, roll up and place seamside down in oblong greased casserole.
Pour remaining sauce on top.
Bake at 350 for 30 minutes, covered.
Remove from oven, take off foil and sprinkle cheese over top.
Return to oven or just let it sit on the stovetop while you call everyone to the table. Either way, the cheese will melt.