Chicken Enchilada Casserole
PaulaG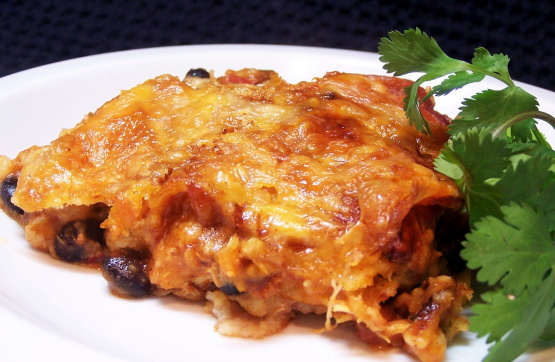 This is something I made when I was in the mood for enchiladas but didn't want to go to all the trouble, had some leftover chicken to use up, and also wanted a somewhat low-cal but filling dinner. It gets a big thumbs up from my whole family, and the leftovers are usually gone very quickly.

Top Review by ellie_
We really enjoyed this super easy casserole which used ingredients that I wanted to use up! I skipped the corn (out of) but followed the recipe as written using a medium salsa and used it with more salsa and sour cream. Delicious! Thanks for sharing this keeper!
Preheat oven to 350 degrees.
Pour 1/2 of the can of enchilada sauce in the bottom of an 11 by 7 inch pan.
Take 6 tortillas and tear or cut 4 of them in half, then dip all of the tortillas (cut and not cut) into the sauce, coating both sides. Arrange the 4 cut tortillas along the edges of the pan, so that the straight cut side faces to the outside, and layering them. Place the two whole tortillas in the center of the pan, to completely cover the bottom of the pan.
Mix together the filling: Chicken, Sour Cream, Salsa, Diced Green Chiles, Pinto beans, Hominy (or corn).
Spread half of the filling over the tortillas in the pan.
Sprinkle 1/4 cup of the cheese over the filling.
Spread the rest of the filling over the cheese.
Tear/cut 4 more tortillas in half and arrange around the edges. Place the last two tortillas over the top to completely cover the filling. Pour and spread the last half of the enchilada sauce over the top of the tortillas and sprinkle the last 1/4 cup of cheese over the top.
Bake in the oven at 350 degrees for about 40 minutes.