Lawsome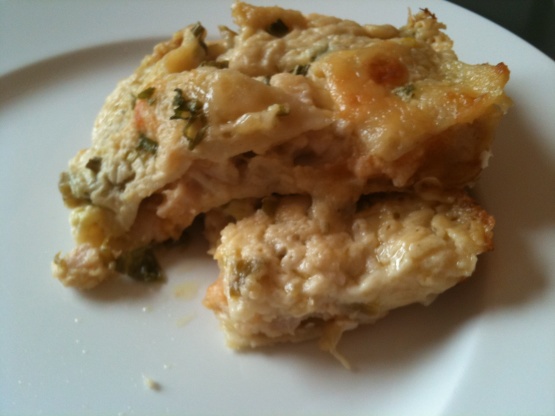 This was a very simple, delicious weeknight dinner. We served it with Cuban Black Beans and rice. I really liked how the sauce came together, and the tortillas almost melted into the casserole. I would recommend serving with sides, as it is very creamy and rich.
In 1 1/2 to 2 quart pan, melt butter over medium heat and add flour and stir until bubbly.
Whisk in broth, stir until boiling. Remove from heat.
Mix in sour cream and chiles.
Cover bottom of 9" by 13" baking dish with 1/3 cup of the sauce.
Quickly dip tortillas in water. Drain briefly and cut into 1 inch strips Scatter 1/2 of the tortillas over sauce, then cover evenly with all the chicken and chopped onion, 2-3 of the cheese and 1/3 of the sauce.
Top with remaining tortillas., sauce and cheese.
Cover dish and bake in 400 degree oven for 30-35 minutes. Sprinkle with green onions and serve.