BarbryT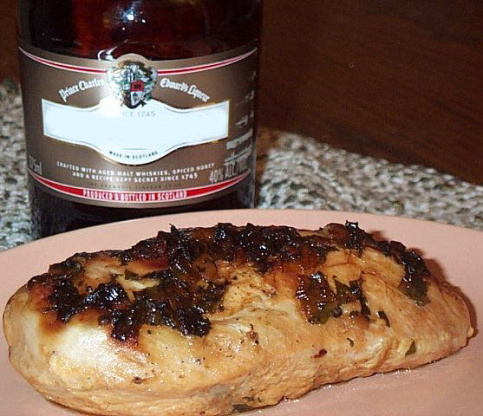 Chicken flavored with the honey-sweetened Scotch-based liqueur Drambuie. Good served with pilaf and asparagus with lemon juice and butter.

Amazing chicken. I was concerned that it would be too sweet, but far from it! It is simply delicious and cooking the breasts at 300 degrees F makes them fall-apart tender. I did forget the thyme since it isn't specified in the directions but since I "thirded" :-) the recipe and made only two chicken breasts, I suspect that omitting one-third of a dash of thyme didn't have too much effect. Make this, folks!
Brown the chicken breasts, seasoned with salt and pepper, in butter in a skillet; remove to a plate with a slotted spoon.
Sauté the onion, garlic and parsley in the same pan.
Add the tarragon and 2 Tbs Drambuie to the pan and simmer 2 minutes more.
Lay each chicken breast on a square of foil.
Coat each breast with the Drambuie sauce and sprinkle with thyme.
Seal and bake 1 hr at 300°.
Remove and open each foil pack.
Pour the rest of Drambuie over chicken, reseal the foil and leave to cook another 5 minutes.