scancan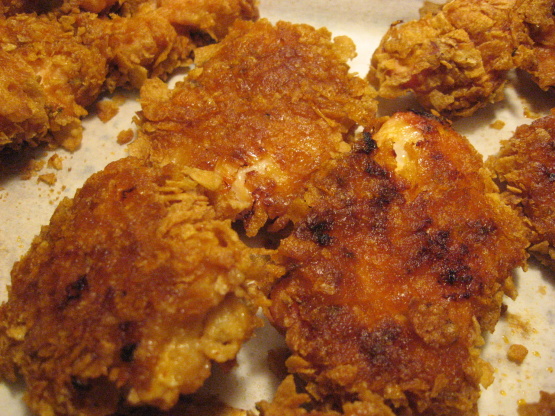 Save us from a world of processed chicken nuggets! One bite of these and everyone is in heaven. One very important note; do not use cornflake crumbs in this recipe as the texture is just important as the taste.
Flatten chicken breasts, rinse well.
Cut into nugget sized pieces.
Add several tablespoons of flour to chicken (so that mayonnaise will adhere well) and mix.
Mix mayonnaise, mustard, chives, and seasonings in a bowl according to personal taste.
Dip chicken into mayonnaise coating well and then coat well with cornflakes.
Place on a parchment lined baking sheet (can use foil but it'll stick) leaving a little room between pieces.
Cover with foil and bake for 20 minutes in a 400 oven.
Remove foil and continue baking until crispy but not dark brown (or will taste very dry).
Enjoy!