Chicken Cordon Bleu Casserole
New Mom Kate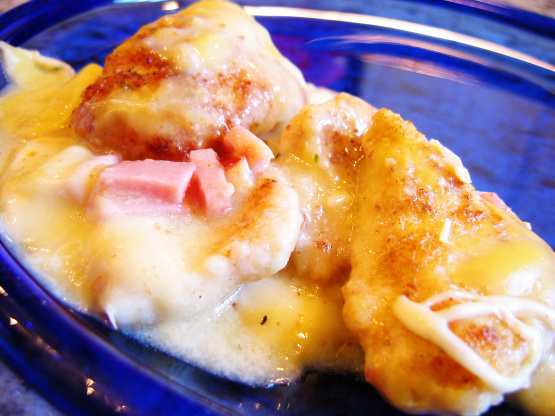 My family loved this recipe. All the flavors of the real deal, only quicker to put on the table. It would be a lovely brunch dish too.
All of the flavors of the real deal but in significantly less time. It was really easy to prepare especailly if you can get the cheese and ham pre-cubed. Make sure you serve it with noodles or stuffing or even mashed taters so all the yummy cheesey gravy has something to stick to! Thanks Miss Annie! I will definately make this again!
Dip chicken in egg and milk mixture, then toss with bread crumbs, coating well.
Brown in a little oil until golden.
Place chicken in a baking dish, add cheese and ham.
Mix soup with 1 cup of milk and pour over all.
Bake at 350°F for 30-35 minutes, or until tender and bubbly.