Nimz1466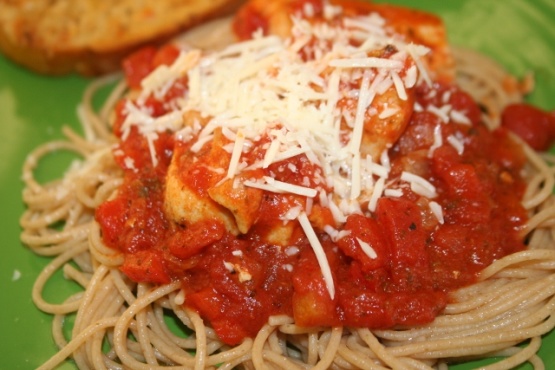 I came up with this recipe by combining the best of a couple recipes I had found in magazines. I do not like to have to deal with bones while eating this so I use chicken tenders. If you prefer dark meat you can use boneless thighs. This is one of my daughter's favorite meals.

Excellent. My first Chicken Cacciatore (that I can remember) and loved it. The herb combination was just excellent. I made as directed except to slow simmer, uncovered to let the sauce thicken up nicely. I'll probably add more onion and bell pepper next time but only because I'm a huge fan of both. Thanks for sharing. Made for PAC Spring 2011
Slice onion and bell pepper. Cut each chicken tender into 4 pieces. Saute onion, bell pepper and chicken in olive oil in a large covered skillet until chicken is lightly browned on each side and onion and bell peppers are tender. Remove chicken, onion and bell pepper to a bowl. Discard oil.
Add all remaining ingredients to skillet. Then add onions, peppers and chicken. Stir and cook over medium heat until sauce begins to boil. Reduce heat to low and simmer, covered, for approximately 30 minutes, making sure chicken is thoroughly cooked.
When sauce and chicken are cooked, remove bay leaf and discard.
Serve sauce over cooked egg noodles and sprinkle with grated parmesan cheese.