Chicken, Barley and Mushroom Soup - 4 Ww Pts.
Prep 10 mins
Cook 50 mins

One of my all-time favourite soups, this is rich and very tasty. No one needs to know that it's healthy! You really should use the chicken thighs because it contributes a lot to the flavour and richness. Enjoy!
Directions
In a large saucepan, heat oil over medium heat. Add onion, celery, carrots and cook, stirring frequently, 3-4 minutes. Add chicken and keep stirring for about 3 or 4 more minutes, until lightly browned.
Add broth, barley, sage, thyme, salt, pepper and bay leaves. Turn to low, cover and simmer for 30 minutes or until barley is cooked.
Add mushrooms and parsley and cook for about 10 more minutes or until mushrooms are heated through.
Most Helpful
What a nice change of pace from regular beef mushroom barley soup! I made this exactly as posted and ended up with a delicious and filling soup. It smells wonderful while it's cooking, too!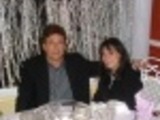 Very hearty and pure comfort food! I added a minced clove of garlic, and may add 1/4 cup more barley next time. Would be good with some canned, diced tomatoes also. Thanks for sharing this recipe!

I halved the recipe for just me, so I'd have leftovers for lunch! Delicious soup, one that I will make often, since I am a "soupaholic"! The only thing I changed was too add just a bit of garlic after sauteing the veggies and chicken...didn't want it to burn. Otherwise, I stayed true to the recipe. Yummy soup! Thanks for sharing!