Chi Chi's Seafood Enchiladas
Swirling F.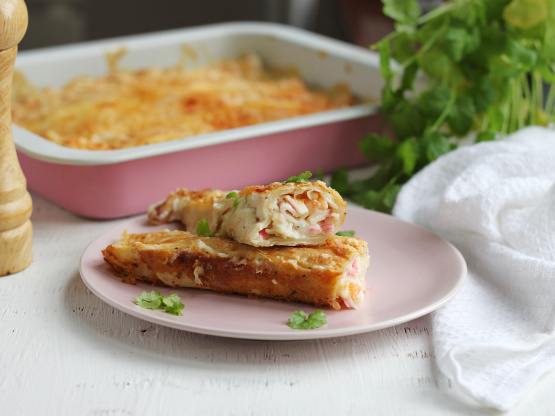 I spent 16+ years at Chi Chi's. This is the recipe you want. In the restaurant these are cooked right on the plate. (Remember... The plates are hot and then you touched them anyway. lol) You could cook them all together in a baking dish. Cook time and temperature may need to be adjusted if not cooking with a convection oven. Enjoy with your favorite spanich rice, refried beans and sweet corn cake.

This is the real deal...We remember many nights at Chi Chi's on Mineral Point road in Madison...and the CanCun enchilada was my fav. Thanks KingJackQueen for posting this wonderful recipe! After reading many of the revues Some of the reviewers had problems with this recipe.. Several things that are important to have this turn out right. 1. Make sure you're using unsalted butter...the lobster base is salty and using the unsalted butter is important. 2. Cook the ruox stirring constantly until it begins to turn light brown and you can really smell that nutty aroma. 3. Make sure you do use the lobster base...both Whole Foods and Woodmans Groceries carry it 4. And lastly be sure to use sherry rather than white wine because you can taste the sherry in the final sauce.
FOR THE SAUCE: Melt butter in a 2 quart saucepan over medium heat.
Add flour.
Cook and stir for 5 minutes(should have a nutty aroma).
Add 1/2 tsp white pepper.
Stir in 2 tbsps lobster base and cook for an additional minute.
Add milk & wine.
Add 2 oz. of the cheese.
Continue to cook until thickened.
FOR THE CRAB MIX: Lightly chop the flaked imitation crab.
Combine with shrimp in a medium size bowl.
Add 1.5 cups of cold sauce.
Mix well.
FOR THE ENCHILADAS: Lay out the tortillas on a flat surface.
Place 2 to 3 heaping tablespoons of the crab mix across the center of each tortilla.
Place flap of the tortilla over the crab mix and roll.
Place flap side down onto a plate or in your baking dish.
Ladle warm sauce over the enchiladas.
Top with remaining monterey jack cheese.
Put into a preheated 425 degree convection oven for 12-14 minutes. In a conventional oven you may want to microwave on high for a minute or 2 before placing in the oven.
Watch and do not allow to burn (brown spots).
Sprinkle with paprika.