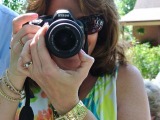 I use Crispex cereal because it both rice and corn Chex so I only have to buy one box to make the mix. I also have increased the 'sauce' by about 50% compared to the original Chex Mix recipe for a little added zip. We have come to prefer double seasoning. Those amounts are in the parenthesis.
6 tablespoons butter, melted (8 Tbls)
2 teaspoons Lawry's Seasoned Salt (3 tsp)
7 teaspoons Worcestershire sauce (9 tsp or 3 Tbls)
8 cups Crispix cereal (1 box)
1 cup mixed nuts
1 cup small pretzels
Directions
Combine melted butter, seasoned salt and Worcestershire sauce.
Place cereal, nuts and pretzels in a roasting pan.
Pour butter mixture over cereal mixture stirring constantly to coat.
Place in preheated 250°F oven and bake for 1 hour, stirring every 15 minutes.
Cool and store in an airtight container or resealable plastic bag.
Reviews
Most Helpful
Our partygoers liked this mix. I used the increased amounts of sauce, and also added 1/2 tsp. each of garlic and onion powder. I also used half Crispix and half Oat squares. You can also try different kinds of pretzels, or flavored pretzels. I also added toasted sunflower seeds. Thank you, Marg.
I have been making this for years too & here are some additions that might help for those that thought it needed something more. 1 Tsp garlic powder, sub about 1/2 of the butter for bacon grease, and (i know this sounds weird) but about 1 tsp of poultry seasoning. This should really add a nice zip!
I hate to be the only one not into this... but I thought it just tasted like butter. I used the extra sauce amounts, and all I could taste was butter and salt. I'll probably just stick to the recipe on the back of the box from now on.

Game-Day Grub >