MA HIKER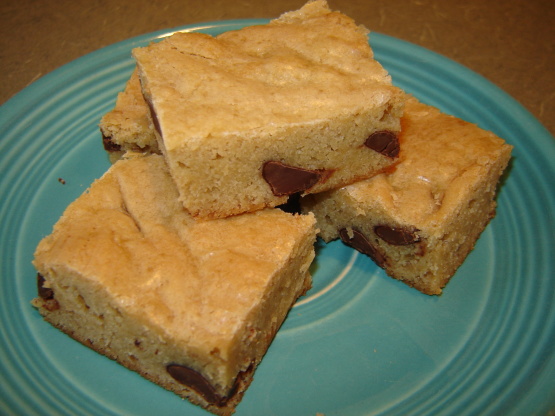 I got this recipe from my mother-in-law's recipe box.

Not so good. Maybe if the recipe had called for baking powder I would have enjoyed it more. These do not rise, baking just sets the bar and they are very thick and heavy. I did not add choclolate chips and that may have made them better because they were not very sweet, either. Sorry, I had to pitch them. : (
Heat oven to 350 degrees F.
Melt butter in 2-quart saucepan over medium heat, 2-3 minutes.
Add brown sugar; mix well.
Cool 5 minutes.
Stir in eggs and vanilla.
Add flour and salt; mix well.
Stir in pecans.
Spread batter into lightly greased 13x9-inch baking pan.
Bake for 22-27 minutes or until set.
Cool completely.
Sprinkle with confectioners' sugar.