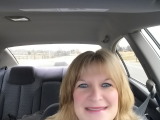 This has been one of my favorite recipes for years. My mom made this for our family when I was growing up. It is truly "yum yum"
Directions
Combine crumbs and margarine in a 9x5 dish.
Line bottom with half of crumb mixture.
Blend cream cheese, sugar and vanilla together.
Fold in whipped cream to above mixture.
Spread 1/2 mixture on crumbs.
Top with pie filling.
Add remaining cream cheese mixture and top with other 1/2 of crumb mixture.
Refrigerate overnight.
Most Helpful
I believe the "sugar" should be confectioners, or powdered, sugar.
My mom use to make a yum yum when I was growing up. I never got the recipe form her but this sounds a lot like it. I just don't know what all that sugar is for. I only used 8oz of cool whip and I didn't use any sugar. It was great!!
The one my aunt used to make for us had sugar in the crumb mixture so the crust was better. I increased the sugar in the cream cheese mix to 1 cup and i left out the half & half as I couldn't find a use for it. With these changes this is a great recipe and I would highly reccomend it.