Parsley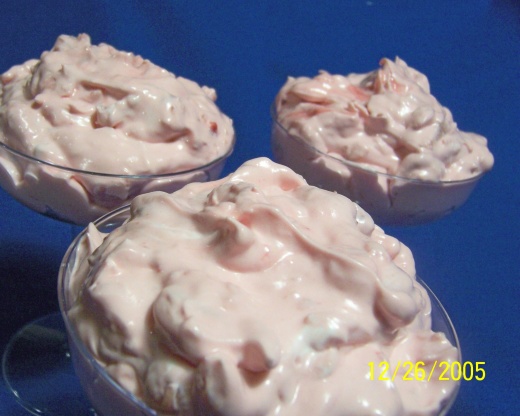 Talk about easy, this dessert is just that; and very impressive as well. Just 10 mins to make? Oh, Yeah!!! For those of you who prefer a less sweet taste, BecR suggested you replace some of the whipped topping with sour cream. Or even just adding some sour cream. ENJOY!

Don't expect leftovers when serving this. very easy recipe. the only thing I added was a handful of coconut. I served this when I was visiting my mom and invited some other family over. I had forgotten that I had e-mailed this to several people. My sister had just made it but her daughter had ate most of it. my brother said he had a bowl in his frig. and my aunt had just bought the ingredients to make it.my family will be making this alot. we all loved it.
In a large bowl, mix the cherry pie filling, sweetened condensed milk, crushed pineapple and whipped topping.
Put in small decorative dessert dishes or stemmed wine glasses.
Chill in the refrigerator at least 2 hours before serving.
NOTE: You could even use your favorite sauce to top. Or decadently use REAL whipped cream!