Calee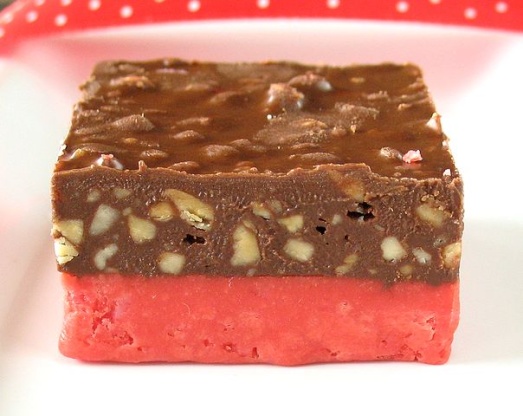 This recipe makes delicious little fudge squares that would be excellent on a holiday cookie tray. They are SWEET but really flavorful. Perfect as small squares. If you like Chocolate and Cherries this recipe is for you. The candy bar was originally called Cherry Chase, and then Cherry Chaser, before becoming known as Cherry Mash. It can be found throughout the Midwest in most grocery and convenience stores and mass-merchandise outlets. I made them with pecans b/c I did not have peanuts and they were still delicious. I found the cherry chips at our Super Walmart next to the chocolate chips.

I couldn't find cherry chips either so I used white chocolate and chopped up maraschino cherries and mixed them in. I let mine drain on a paper towel so they were dry. I put half of the chocolate layer down first then the cherry layer and microwaved the rest of the chocolate for a few seconds and spread it on the cherry layer. They came right out of the pan and I could put them on a platter. I love these! I hope you can get them to work for you this way.
Combine sugar, butter or margarine, salt and half and half in saucepan. Boil on high heat for about 5 minutes, stirring occasionally. Stir in marshmallows and cherry chips.
Spread in 8 or 9" square pan which has been lined with parchment or wax paper.
Melt chocolate with peanut butter in a small pan over low heat, stirring occasionally.
Stir in peanuts. Spread evenly over cherry layer.
Let set in refrigerator. Cut into 1" squares with warm sharp knife (hold under hot water and then dry before cutting).