Cheesy Zucchini Casserole
Parsley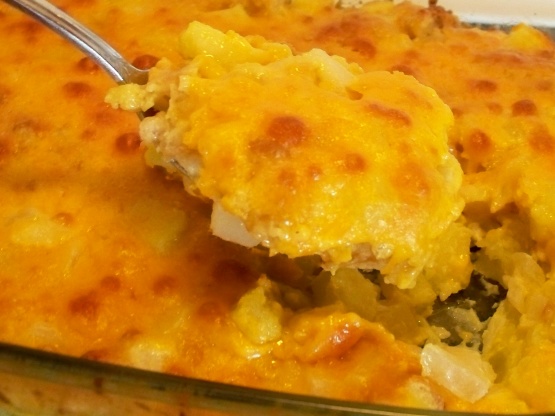 Mmm... buttery bread cubes & cheesy zucchini. An easy to prepare side dish.

This was delicious! I halved the recipe and used shredded zucchini instead of diced. I baked it a little longer to get the zucchini softer--I like my zucchini very soft. I intended to take it to work for lunch, but it smelled and looked sooo good coming out of the oven that I had to sample some then and there!

This would also be really good with some potato shreds instead of the bread, using the shredded zucchini, to make it like a potato casserole texture.
Preheat oven to 180 deg C (350 deg F), and place bread cubes in a medium bowl and pour the melted butter over bread cubes.
Add the zucchini, onion, garlic salt and egg and mix well, then transfer the mixture into a 9x13-inch baking dish and top with the cheese.
Bake, covered, in preheated oven for 30 minutes. Then uncover the dish and bake for another 30 minutes.