Cheesy Scalloped Potatoes (Calorie-Trimmed)
Nimz1466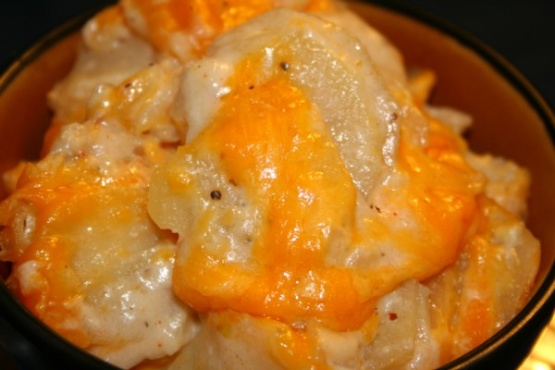 This calorie-trimmed favorite saves 200 calories per serving. For the creamiest results, be sure to use red potatoes. White potatoes have a drier texture and tend to sock up the sauce during baking. For the cheesiest flavor use reduced-fat Sharp Cheddar Cheese. 114 Calories a Serving! Adapted from the New Dieter's Cookbook from Better Homes and Gardens.

Great! I omitted the salt and included the optional reduced fat Parmesan cheese. It was warm and delicious! Thanks for sharing.
For sauce, in a small saucepan stir together milk, flour, salt, pepper, and garlic powder. Cook and stir over medium heat until thickened and bubbly. Stir in onion.
Spray a 1-1/2-quart casserole with nonstick spray coating. Place half of the potatoes in the casserole. Top with half of the sauce and optional parmesan. Repeat layers with remaining potatoes, sauce and parmesan.
Bake, covered, in a 350°F oven about 65 minutes or until potatoes are tender, stirring once.
Remove from oven and sprinkle with cheese.
Cover and let stand 1-2 minutes or until cheese is melted.
If desired, garnish with parsley.