Cheesy Scalloped Potatoes
Derf2440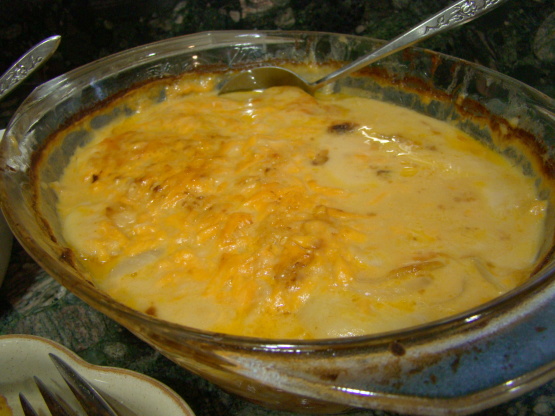 sorry but these did not turn out the way I had hoped. There was way too much fluid and the cheese top all melted into the fluid, so there was no nice crisp top. the cook time was off also, the potatoes were under cooked and actually took twice the time to cook. The casserole was very "soupy" but the flavour was very nice.
Combine mixture of soup, milk, and mustard with potatoes, onion and butter in large saucepan.
Bring mixture to a boil.
Place in 9 x 13 x 2" baking pan.
Sprinkle with mixture of cheeses.
Bake covered, in preheated 375° F (190° C) oven for 30 minutes (or until golden).
Remove cover; bake for 15 minutes.
Let stand for 5 minutes before serving.